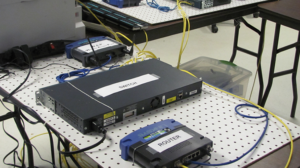 The scope of the final project reflects the success of the course "Introduction to Networking" that we just completed at Notre Dame High School of Lawrence, MA. Students created an Ethernet network with two separate LAN Segments for a fictitious car dealer. They configured Switches, Routers, a DHCP Server, made Cat5 cables, and troubleshooted TCP/IP. The Business Network 192.168.1.0/24 has an Access Point, so that salespersons using tablet PC's can engage potential car buyers outside the showroom. The Visiting Client's Network 192.168.2.0/24 has a WiFi hotspot for providing Internet access to customers while waiting for their cars to be serviced.
In addition, an Apache Web Server and a File Server were configured for hosting the car dealer's Intranet website, where managers can publish enticing pictures of vehicles and hot deals on the fly, targeting the specific demographic in the showroom at a given time: a sports car for a young professional, or a roomy SUV for a family. A PC accessing the site through a browser projects the intranet website onto a large screen TV (classroom projector), advertising manager's specials to people present in the showroom.
Two factors contributed to this success. First, the self-discipline of NDHS students, who attended class after a long school day or after returning from their work study program. Several students came into school on a Saturday, and February's vacation to work on the final project. Second, the hands-on support of Notre Dame's I/T director, who actively helped me run this class every week.
As a bonus, students installed PHP, and connected it to Apache. They also created a shared drive, and mapped it on each student's PC. At the time of this posting, we are using this development environment for learning programming concepts such as: variables, loops, if-then-else, arrays, functions, client-server, and algorithms (counting, summations, sorting, finding prime numbers).
I have really enjoyed volunteering at NDHS. This year, thanks to donations from family and friends, we were able to keep the pizza dinner tradition every meeting. I can't wait to see this class graduating from high demand careers such as Computer Information System (CIS), Management Information System (MIS), Bachelor of Science in Information Technology (BSIT), or Computer Science (CS).